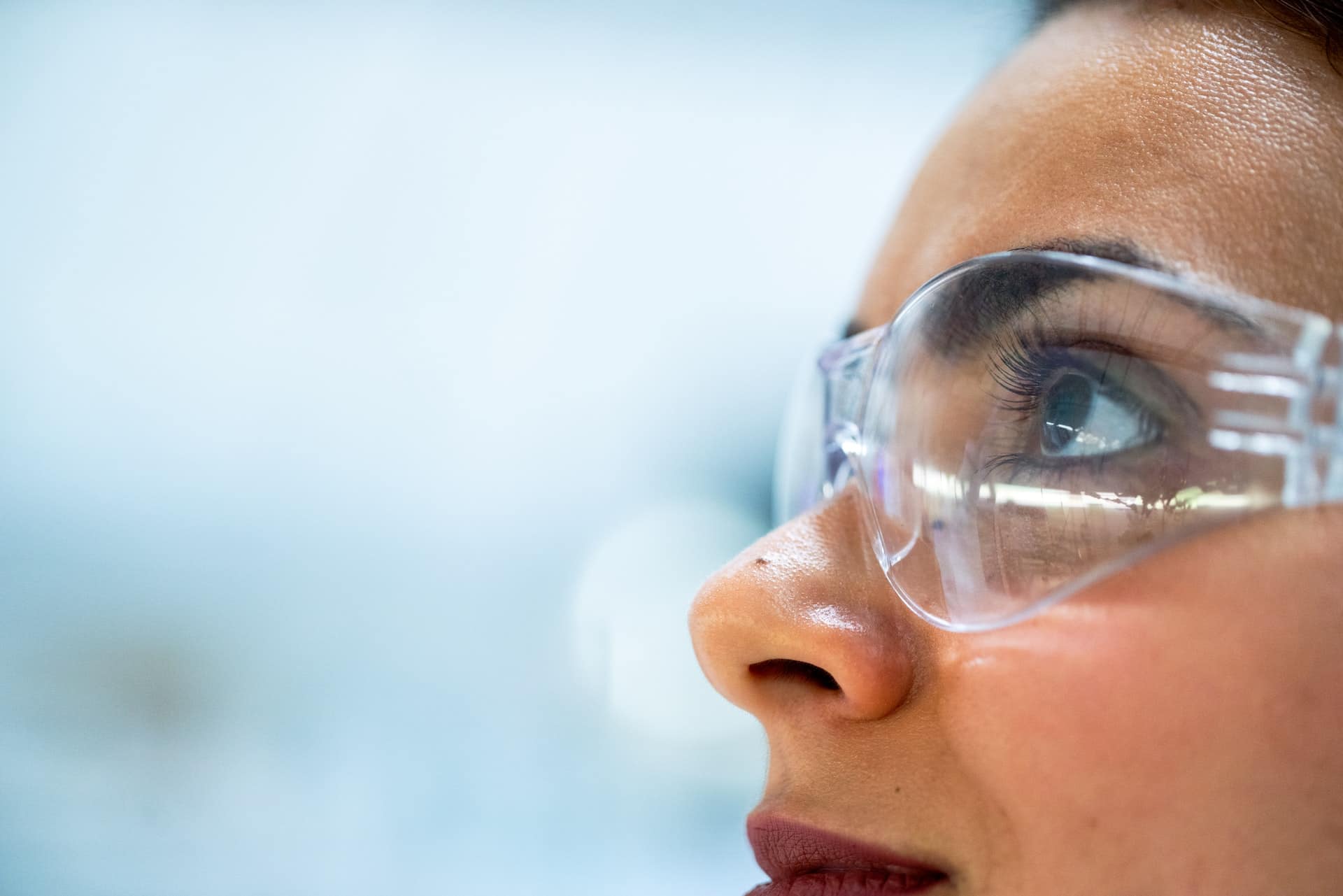 Safety is the most important part of any engineering project. Building construction, drilling and pipe-laying, metal fabrication and processing , electricians, and other businesses and industries use safety glasses to make sure no shrapnel and other high-velocity and dangerous foreign materials gets into the eyes of expert personnel.  They definitely need the best safety glasses available in the market.
Below, we've listed some of the best safety glasses we've found suitable for electricians. Whether you're just finishing a critical task at home or in your project site, you can be sure your eyes are protected from materials and liquids that fly around in your operating area.
MAGID Y50BKAFBLA Iconic Y50 Safety Glasses
Electricians deal with a huge amount of blue light. It's the sparks that the eyes can barely see or concentrate on because of its brightness. Furthermore, musty and cramped spaces often limit their visibility, which makes it important to have a scratch and fog-resistant pair of safety glasses. MAGID's excellent blue-light blocking clear lens works well against electrically-generated light, is lightweight, and can resist scratches with its specialised coating.
PROS:
Blue light-blocking lens that removes harsh, blue light from work areas and wires.

Diverse in its operations — can work for blue-light shielding in office, manufacturing, laboratory work, and more 

Scratch-resistant and lasts long. Extremely durable.

Has a wiper case that guarantees no smudges.
CONS:
A little pricey

Foldable hinge feels a little weak but with care, can last long as it should.
back to menu ↑
SSP Eyewear Top Focal Tactical Safety Glasses
One of the more expensive safety glasses available in the market, Bifocal is a great lens because it has magnification capabilities at the top of its frame. Originally designed for combat or shooting range purposes, it's excellent for electricians who are doing aerial work too.
PROS:
Anti-fog coating

Permanently-bonded double siding

100% UVA/UVB protection

Shatterproof polycarbonate lens that removes distortion.

No blind spots
CONS:
A bit too expensive to be electricians' gear

Can have blinding bottoms sometimes
back to menu ↑
ToolFreak Spoggles Work and Sports Safety Glasses
Greatly on the affordable side, has great anti-glare, and doesn't fog up easily. ToolFreak's Spoggles — aptly called sports goggles, are great glasses-turned-googles and vice-versa. The versatility and cheap price makes this one a great buy for electricians.
PROS:
Reduced glare and improved viewing clarity

Adjustable bright-light and dark lighting workplace situations

Extensive protection against dust, wind, and debris

Scratchproof

Inexpensive yet stylish
CONS:
Goggles functionality might not be too useful when you're working on electrical projects.
back to menu ↑
Dewalt DPG59-115C Reinforcer Rx-Bifocal
A worker-oriented set of safety glasses, Dewalt's excellent RDX-Bifocal is quite affordable yet functional. With a magnifier molded right below the viewing plane on the polycarbonate lens, you have an excellent working and reading glass at the same time. Read more below about its functionality.
PROS:
Diopter for magnification molded straight on the lens.

ANSI Z87.1 Hard Coat Lens standard

Distortion-free lens

Lightweight
CONS:
If you're looking for added functionality, you might be limited
back to menu ↑
PYRAMEX SB7910D15 Pyramex Clear Safety Reader Glasses
It looks like your average reading glasses with its thick frame and rims. However, inside is a powerful 1.5x magnification lens that is scratch resistant. In addition, your eyes have 99% protection against UVA, B, and C. However, it is not as feature-filled as other safety glasses you'll see in this list.
PROS:
Stylish and looks inconspicuous for professionals

Soft nose piece for perfect fit and comfort during use

A scratch-proof lens with full UV protection A-C
CONS:
Low in features to guarantee your eyes' full safety

Visibility limitation on the peripheral areas of your eyes
back to menu ↑
DEWALT DPG94-1C Dominator SAFETY Glasses
If there's any pair of glasses that looks like it really means business, it's definitely Dewalt's Dominator safety glasses. Built like a truck and a full-frame coverage with an excellent rubber nosepiece, it's affordable as it protects you from UV rays. It's ANSI Z87.1+ compliant, making it one of the sturdiest pair of safety glasses you can use at work.
PROS:
No-slip comfortable fit thanks to rubber-tipped temples

Rubber nosepiece for full comfort even during long periods of projects.

Protects eyes against UV rays 99.9% of the time.
CONS:
Limited in features and variability

It does not provide full peripheral vision, which might be problematic for others.
back to menu ↑
NoCry Safety Glasses with Clear Anti Fog
NoCry's safety glasses provides full peripheral vision while protecting your eyes with a capable, protective wrap-around polycarbonate pair of glasses. Additionally, you'll find great comfort with its rubbers side and nose pieces. Scratch-proof, glare, and fog resistant safety glasses make your job easy, and you'll get that from NoCry's pair of amazing safeties.
PROS:
Fog, glare, and scratch-resistant

Affordable

Excellent electrician's pair of glasses with double coats that make it scratch resistant

Highly durable and dependable
CONS:
A bit limited in features

Isn't too stylish for casual wear, but excellent eye protection for almost anything
back to menu ↑
Elvex RX-500C 1.5 Diopter Full Lens Magnifier Safety Glasses
The pair of glasses looks like a bicycle or sports-oriented pair of glasses at first. However, Elvex's diopter's are full-lens magnifiers that help you see the finest detail in your electrical works. Furthermore, its polycarbonate wrap-around frame allows you full peripheral vision and comes in a bifocal magnification version.
PROS:
Full magnification lens

Can stop or reduce the impact of ballistics

Guarantees full peripheral vision
CONS:
Limited in features

No UV protection
back to menu ↑
DEWALT DPG82-11/DPG82-11CTR Safety Glasses
Dewalt's safety goggle is definitely made of heavy duty material. In fact, it looks heavy duty, too. With its elastic headband and weighty front, it looks like a tough contender for almost any kind of electrical project or industrial work. With Dewalt's signature Coat, the hard-coated lens has great protection against fogging. Furthermore, the goggle conforms to the face, and the strap itself is fully adjustable.
PROS:
Elastic, adjustable headband

Ventilation channels for improved material breathability

Conforms to face comfortably

Anti-fog lens protection
CONS:
Doesn't look too fashionable than the rest