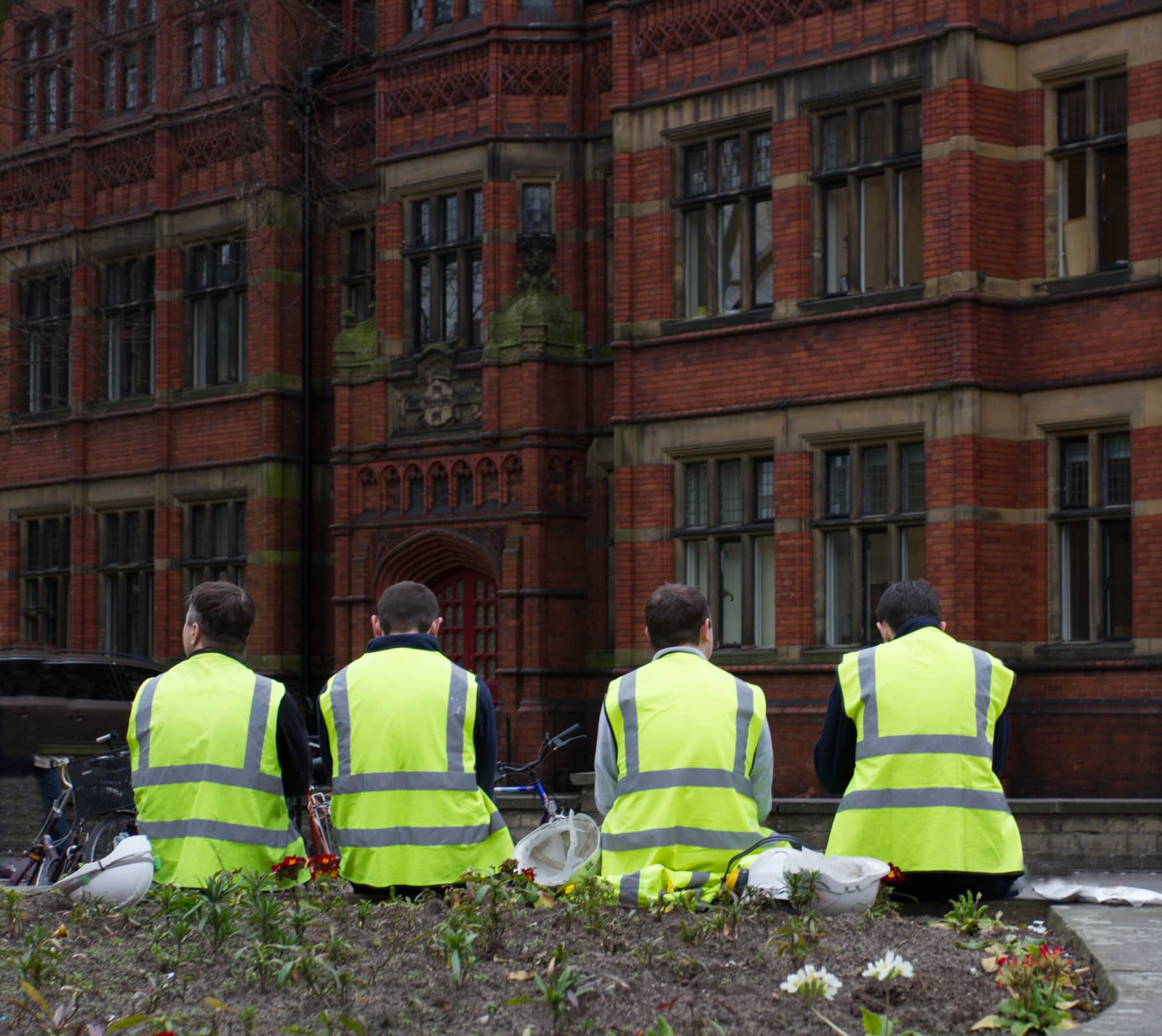 I still remember the very first lunchbox I owned. It was a small, plastic lunchbox with my favorite cartoon character on it. I felt nostalgia upon seeing new TV-like lunchboxes meant for kids. However, those plastic-molded lunchboxes wouldn't even survive a single day if it went to a construction site. In fact, it's not enough to protect the food it contains inside when something untoward happens during the day.
Many construction equipment manufacturers noticed this gap in between the heavy-duty vehicles and tools they provide. It wasn't enough to use a tin-lunchbox and food container. Workers needed a lunchbox that won't corrode in the presence of moisture, wouldn't leak or let liquids from your daily activities contaminate your food. In short, your gear needs to be as sturdy and safe as the equipment construction manufacturers create.
Create they did; nowadays, you'd see a huge number of industrial and heavy-duty lunchboxes with anti-leak and corrosion features. In addition, it has exceptional insulation that allows drinks to retain their hot or cool temperature. And just like the equipment they manufacture, construction companies mostly throw in a lifetime warranty for their products, especially for the locks that often are the first to say goodbye or become broken in conventional children's or even corporate employee's lunchboxes.
So, without further ado, here are the ten best lunchboxes for the modern construction worker guaranteed to deliver food and exquisite taste without compromise.
Stanley 7QT Heritage Lunchbox
It might look like a toolbox on the outside because of its thick insulation and stainless steel material, but there's no doubt that Stanley's Heritage Cooler and Vacuum bottle delivers exceptional benefits for an electrician especially in and a hostile dining environment with its leak-proof bottle and food container. In fact, its vacuum bottle can keep your drinks hot or cold for 24 hours. If it's iced, you can be sure it'll be cold for 120 hours too.  If you are looking for a solution that keeps your food hot or your beer chilled for long hours, the Stanley 7QT is probably the best lunchbox for construction workers!
PROS:
Sturdy and lightweight

Insulated vacuum thermos capable of sustaining temperature for 24 hours (120 hours for iced drinks)

Leak proof

Lifetime Warranty
CONS:
A bit industrial/lockbox looking

Cramped space for big eaters
back to menu ↑
Klein Tools 55600 Lunch Box
This lunchbox might look like a plastic toolbox, but trust me, it's one of the sturdiest construction lunchboxes out there. With an inside storage compartment for your utensils, napkins, medicines, and gadgets, I personally think it's the best lunchbox for construction workers. Its lid can open at 90 degrees, has a convenient shoulder strap, and makes a great seat supporting up to 300 pounds! 
PROS:
Retains temperature for up to 30 hours. 

A compartment with over 18 can capacity

Can hold your valuables inside if you can provide a #1 Master Lock
CONS:
More space and more things inside: instant heaviness and decreased portability

Feels and looks a bit too plastic with exteriors
back to menu ↑
YETI Roadie 20 Lunchbox
YETI's lunchbox has a great variety of colors (about nine) to choose from. It looks like a child's lunchbox, but once you peek inside, you get a greatly-insulated lunchbox that has a thick plastic-rubber exterior, no-leak features, and can store up to 14 cans — just perfect for your lunch, snacks, and drinks!
PROS:
Sturdily built: Rotomolded Construction makes it virtually indestructible

PermaFrost Insulation guarantees long-term temperature and ice retention

Lightweight and greatly portable

Can hold over 14 cans
CONS:
Can be a bit too big for a lunchbox (unless you're a big eater)

Fatwalls bulk up the lunchbox but necessary for insulation.
back to menu ↑
Stanley Adventure Lunchbox
The Adventure Cooler is a portable and excellent investment because of its light weight and simplicity. Featuring double wall insulations, leak resistant lid locks, a double wall foam, and its capability to hold 21 cans, it's one of the simplest yet best construction employee lunchboxes you can own.
PROS:
Offers adequate insulation

Double foam insulation retains temperature for more than a day

Can hold up to 21 cans

Four colors to choose from
CONS:
Might be too featureless for some, but simplicity is its charm

Can have insufficient space for big eaters.
back to menu ↑
Carhartt Deluxe  Insulated Lunchbox
All lunchboxes offer different types of insulation, but Carharrt's Dual Compartment has heavy-duty fabric that features excellent insulation on both containers. It uses heavy duty YKK zippers and is truly light on its own. However, the heavy-duty fabric might be a turn-off for some workers because of decreased durability.
PROS:
Exceptional lightness

Heavy-duty leakproof fabric

Adequate size for 6 cans and more

YKK zippers and triple-needle stitches
CONS:
Fabric guarantees only adequate protection against physical blunt force in possible construction accidents

Small but very portable storage 
back to menu ↑
ENGEL Cooler/Dry LunchBox 13 Qt
ENGEL's cooler has about five color variants, each depicting a wild, rugged look that might appeal to some but not to others. However, its insides definitely show how great it is to use. It can double as a drybox for electricians. On the other hand, it has fittings that uses stainless steel screws, locks made of stainless steel, and an airtight gasket that features excellent ice retention and waterproofing.
PROS:
Non-absorbent surfaces making it easy to clean stains and avoid odor

Recessed central carry handle in the lid and adjustable shoulder strap

Airtight EVA gasket on the lid
CONS:
A bit on the heavy side in exchange for excellent insulation
back to menu ↑
Igloo BMX 25 Quart Lunchbox
Made of plastic-rubber interiors and exteriors many know Igloo for (as its signature), their construction lunchbox is one of the most reliable coolers and the BMX — however small — is one of the best. It has rubberized latches that secure the lid and uses stainless-steel screws, a reinforced base, and diamond kick plate for instant opening with your steel-toed boots after you rush out of work to catch a break.
PROS:
Extremely durable despite its plastic-rubber body

Features an advanced ice chest that allows it to retain hot or cold drinks with or without ice.

Bear-resistant; therefore it can withstand being accidentally hit by heavy materials like steel
CONS:
Metal kickplate adds a bit of weight, which might make it unnecessary to use.

Can be a bit small if you're a big eater
back to menu ↑
HemingWeigh Reusable Insulated Lunch Box
A durable fabric-based lunchbox for construction workers with 3 food storage containers, this excellently-insulated lunchbox is lightweight, spacious, and can carry your utensils, napkins, and other small items securely. However, its fabric encasement might not be the perfect choice for many construction workers.
PROS:
Very spacious

Durable fabric that guarantees no leaks and is waterproof

Excellent internal insulation

Can keep up to 3 containers and comes with 2 ice packs
CONS:
Fabric material isn't for all construction workers

Might be fit for school, corporate, or camping/ outdoor activity use
back to menu ↑
Arctic Zone Titan Deep Freeze Hardbody Lunchbox
Deep Freeze features one of the best insulations when it comes to construction lunchboxes. It reflects heat to help retain internal insulation. This feature makes it perfect for ice-based drinks or hot drinks you'd want to maintain temperatures for longer periods of time. In addition, you have a leakproof and easy-clean interior lining with insulated front pockets. 
PROS:
High-grade insulation for iced and hot drinks helping temperatures last longer

Zipperless "flip-open" lid for easier access

Water, stain, and abrasion/puncture resistant fabric
CONS:
Cramped space

Fabric material might not be the best choice for construction zones
back to menu ↑
Igloo Profile 16 quart Lunchbox
Similar to another Igloo product above, the 16QT cooler is similar in many ways, namely Igloo's patented plastic-rubber exterior and interiors. Easy to stack, lightweight, and small, the lunchbox also features cool riser technology to improve cooling performance. If you're not much into eating big, then Igloo's compartmentalized and just-enough 16-quart cooler is definitely up your alley
PROS:
Easy stacking and storage

Excellent insulation thanks to cool riser technology

Remarkable temperature retention for its size
CONS:
Might be a little too small for some
Conclusion
It might seem like a small deal — buying the best lunchbox for construction workers. However, after a hard days' work going into midday for some food and rest, it's always a great feeling to take a sip of coffee, tea or soup from your thermos knowing it's still hot. Construction workers would definitely love to eat food that's pristine and tasty to consume just as they had prepared it before you left home. I hope this helps make your decision easier and if you liked our post, have any questions or just want to say hi, please leave a comment in the section below!