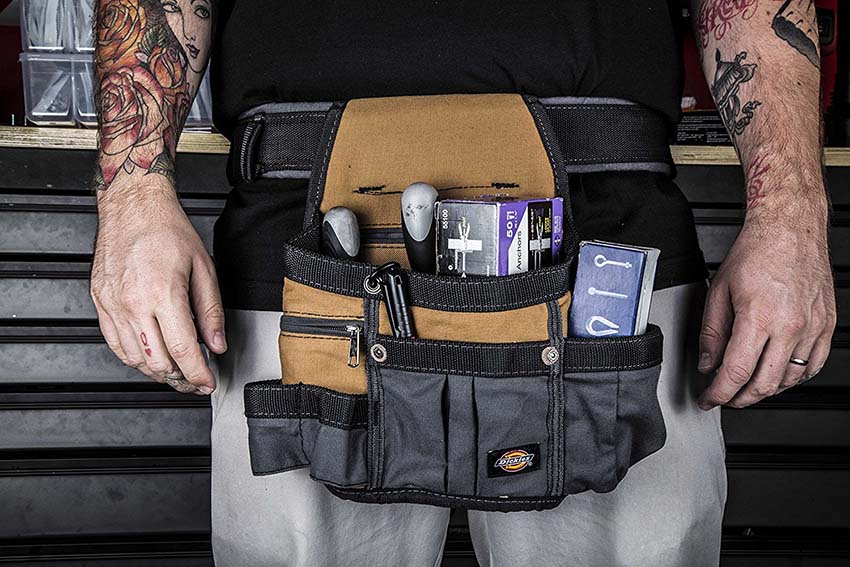 Having the proper gear for the job is a must, you can never hope to excel in the field of electrical repairs and maintenance without a suitable tool pouch. This is simply a small bag in which you safeguard the various tools and gears. We have identified and are going to review six of the best electrician tool pouches on the market today.
McGuire-Nicholas 526-CC Brown Professional Electrician Tool Pouch
Topping the list of the best electrician tool pouches is this McGuire-Nicholas 526-CC pouch. It is generally small, basic, and compact in size. By reasons of these excellent dimensions, the pouch is convenient to carry around.
Oil-tanned Leather Construction
The pouch is primarily made of leather material. This leather is no ordinary. It is tanned using oil to slow down the pace of dampening and deterioration. It hence lasts longer than most ordinary pouches.
Rivet Reinforcement
At the edges of the seams are some rivet reinforcements. These basically play the role of fastening the seams so tightly as to prevent any possibilities of tearing apart. The end result is the ability to hold weighty contents reliably.
Metal Tape Clip
Also forming a vital part of this pouch is the metal tape clip. This one holds most tape measures intact and makes them readily available for your access whenever you need them.
PROS:
Holds all the various tools well
Contains numerous pockets for ease of storage
Confers easy access to the tools that are stored
Stores object in their easily accessible vertical positions
Fits the limited storage spaces conveniently
CONS:
May be complicated to a simpler user
Can easily sustain pierces from sharp objects
Difficult to keep clean
back to menu ↑
Occidental Leather 5500 Electrician's Tool Pouch
You cannot afford to waste any time as you work around especially if you are a full-time electrician. To save you time, you need to acquire a tool holder like this which accommodates all the most frequently used tools at a time. If quality is what you seek, this is by far the best electrician tool pouch money can buy.
Heavy-duty Hammer Holder
In all, this pouch is strong enough to be able to hold the heavy-duty hammers with ease. Its leather construction is pretty strong and reliable in guaranteeing the required support.
Intuitive Design
It generally exhibits some intuitive design. This combined with the hand-specific tool holder work hand in hand to improve the functioning of your tasks. With this pouch, you get to say goodbye to all forms of inconveniences.
Multiple Pockets
Dotting the entire length and breadth of the pouch are numerous pockets. In these pockets, you may slot in your screwdrivers and other kinds of specialized tools. You are thus assured some form of convenience.
PROS:
Comes along with 15 pockets for maximum storage
Contains special compartments for storing chains and flashlights
Manufactured by an experienced and reputable brand
Backed by a robust customer care regime
Exudes some awesome design
CONS:
Moderately expensive to afford
Quite bulky to carry along with ease
May predispose you to fatigue with prolonged use
back to menu ↑
DEWALT DG5103 Maintenance and Electrician Tool Pouch
For quick responses and faster turnarounds, you have to safeguard your tools in a very accessible pouch. Perhaps no other pouch is as reliable in providing this quick and unconstrained access like this one.
Ballistic Poly Fabric
Coming in first among the list of its awesome features is the ballistic poly fabric material construction. The material is not only strong but also reinforced at the edges. It is hence pretty resistant to wear and tear.
Accessible Pockets
All its pockets are strategically placed. They are clearly visible and within your easy reach. You will not struggle at all to retrieve the contents you are interested in if you place your bet on this pouch.
Multiple Storage Options
The pouch comprises both the sleeve pockets and web loops. These two give you room to carry a vast array of tools and storage parts. They also bring about added convenience on your part.
PROS:
Holds all your essentials conveniently
Provides unparalleled access to the contents at all times
Lasts longer than is ordinarily expected
Accommodates large keys well also
Comprehensive in scope and negates the need for too many pouches at a time
CONS:
Quite cumbersome to move around
Prone to frequent breakdowns
Not backed by any warranty
back to menu ↑
Occidental Leather 5589 Electrician's Tool Pouch
Generally speaking, this pouch is designed wholly for the typical journeyman electrician. It is light and compact enough to allow for easy travels. You will find it great if you change locations every quite often.
Heavy-duty Chain
The pouch does come along with a heavy-duty chain. You use this chain to hold the electrical tapes. It also comes further with a handy utility clip which attaches to the tape for the sake of expedited storage.
Reputable Manufacturer
Its manufacturer has been in the business of making electrical pouches for well over 30 years now. It has produced only high-quality pouches which endure the test of time.
Numerous Pockets
Generally speaking, the best electrician tool pouch has the most pockets pockets. As a matter of fact, it grants you some 25 different pockets and tool holders to choose from. These have the ability to jointly hold your tools intact.
PROS:
Hand-made for utmost perfection
Manufactured using only high-quality materials
Endures intense abuse and impacts well
Unaffected by the extreme weights of the contents
Great for those who are constantly on the go!
CONS:
Expensive
Not uniform in size, appearance, and shapes
Takes time to work on and deliver
back to menu ↑
VETO PRO PAC TP4 Technician Tool Pouch
Are you a general electrician? Are you seeking a suitable companion to guide and carry you along? This may be the best electrician tool pouch to try your luck on if you answered either question in the affirmative.
2 D-rings Nylon Plastic Belt Clip
Forming a vital part of the pouch are some two D-rings Nylon plastic belt clip. These ones hold the tape measures and other vital tools conveniently. They facilitate the safety and transportation of these gadgets.
Durable Leather Trim Panels
Its panels as doing just about every other part are made of the durable leather material. This construction sees to it that it is not affected adversely by the common agents of the tear.
20 Interior and Exterior Pockets
Lastly, the pouch contains twenty interior and exterior pockets. They vary in size and are hence suited for safeguarding different kinds of tools and accessories. You are assured the pleasure of maximum convenience.
PROS:
Backed by 5-year limited warranty
Comes along with shoulder strap for comfortable mounting
Have a rubber-grip handle for comfortable lifting
Handles tools of various sizes and shapes well
Great for general chores and purposes
CONS:
Easily prone to damages owing to its ability to accommodate clumsy tools
Quite heavy and tiresome to carry along
When damaged, you might spend too much to repair
back to menu ↑
Southwire Tools & Equipment POUCH4 Leather Tool Pouch
For frequent and prolonged use, you definitely need the most durable pouch money can possibly buy. This is by far the best electrician tool pouch to look up to if you find yourself in such a state.
Durable Tapered Compartments
Throughout the interior of the pouch are some durable and tapered compartments. They not only provide extra storage space but also confer some added stability to the tools that are kept therein.
Fade-resistant Saddled Leather
Unlike the leather that is used to make up other kinds of similar pouches, the one for this one does not fade. Instead, they maintain their color and also resist stains and other contaminants.
Compact Size
On the whole, the pouch is compact in size and hence slides easily in the available limited storage space. This compact size allows you to easily access your tools whenever and wherever you may need them.
PROS:
Easy to access the pockets and interior contents
Includes a handy metal tool clip for holding tape measures
Riveted along the edges for extra strength
Cheaper to afford
Brings higher value for money
CONS:
No warranty or after-sale service
Has a limited storage capacity
May not hold some clumsy and out-of-shape tools
Conclusion
Now that you have known all you might possibly have to as regards the best electrician tool pouch, why don't you go ahead and acquire at least one of them? How else will you be able to enjoy the accompanying benefits? You also would not want to gain alone. This is why we yet again urge you to spread this news as far wide as you possibly can!