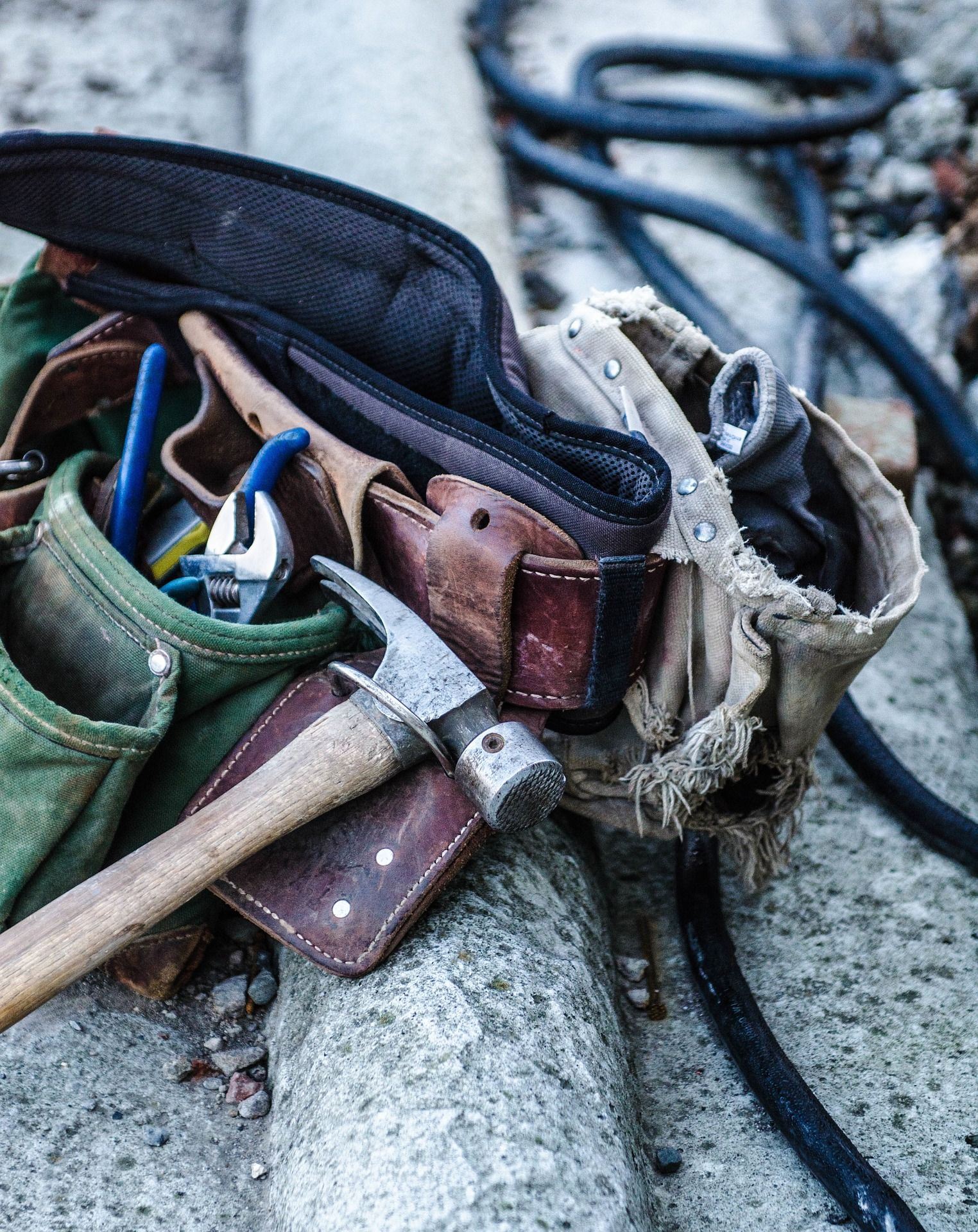 There is a wide variety of tool belts available in the market. For electricians, choosing the best tool belt is an essential decision. It determines how efficient your work is and also how secure your electrical tools are. We have compiled a list of some of the best electrician tool belts in the market, describing their main features, pros, and cons. This guide will help you in making the best decision while buying these essential carriers.
Rack-A-Tiers 43242 Electrician Combo Tool Belt
This belt has air-channel ventilation and contoured back support that provide maximum comfort. It features a nylon web-core interior for sturdiness. It has a bar-tack stitching and heavy-duty metal rivets for extra strength. It is made of 1250 denier Dura Tek fabric, and the pocket openings are stitched with strong nylon webbing.
PROS:
Comfortable to use
Strong and durable
Adequately sized pockets
Affordable
CONS:
The front pocket is quite small
back to menu ↑
FASITE PTN012 32-POCKET Electrical Tool Belt
This storage belt has a large carrying capacity that includes 32 pockets, two hammer loops, one steel measuring tape holder and one steel hammer holder. It is perfect for holding electrical tools and for electricians who do long distances and work at heights. It is made of heavy duty 600D polyester. Its size can be adjusted to a maximum of 48 inches.
PROS:
Has an efficient design yet large capacity
Multi-functional
The material is of excellent quality and is waterproof
Light and easy to carry around
One-year guarantee and a money back option
Feels comfortable when worn
Strong and durable
CONS:
The belt can sometimes become loose after long working hours requiring tightening
back to menu ↑
CLC Custom Leathercraft 1608 Electrician Tool Belt
Some of the best electrician tool belts are not built with many pockets, but not this one. The CLC Custom Leathercraft 1690 is built with 28 pockets that provide ample storage space. It has unique suspenders that distribute weight evenly thereby preventing strain on any particular body muscle. It has a handle design that features simple adjustments that allow unproblematic carrying and storage. Contents are unlikely to spill due to the zippered top flap pouch which holds tools from falling off of the pockets. It also has a built-in cordless holder. The belt is padded and fits waist sizes 29 – 46 inches. It is made of strong polyester fabric.
PROS:
Comfortable to use
Tools can not spill
Fits most waist sizes
It is a high-quality bag
Sturdy and durable
CONS:
Cannot fit waist sizes that are smaller than 29 and larger than 46 inches
back to menu ↑
DEWALT DG5617 20-Pocket Pro Electrician Tool Belt
This tool belt has nine main pockets, 20 smaller pockets, and a zippered pouch. It is perfect for carrying electrical tools. It has padded adjustable suspenders and a belt for maximum comfort. It features a padded mobile-phone carrier and a pocket with zipping for securing valuables. The pouch handle makes belt adjustments easy and enables easy carrying with one hand. It has a built-in utility knife pocket designed to avoid any unintended pouch punctures. It is made to fit waist sizes 29 to 46 inches.
PROS:
Provides lots of space
Comfortable to wear
Easy to adjust
Lightweight and easy to carry around
High quality
CONS:
The clips are made of plastic
back to menu ↑
Occidental Leather 9596 Pro Electrician Tool Belt
This carrier is made of genuine leather. It is highly adjustable and is perfect for professional electricians. It is organized for carrying the most number of electrical tools efficiently. It weighs 5.25 pounds. Although it's more expensive, like they say, you get what you pay for. If your looking for tool gear with the highest of quality material, functionality and design, I highly suggest Occidental Leather. Due to the quality workmanship and durability this belt has to offer, the Occidental Leather 9596 is without a doubt one of the best electrician tool belts on the market.
PROS:
Strong and durable
Ample carrying space
Has an ergonomic design
High-quality carrier
Lightweight and easy to carry
back to menu ↑
Gatorback B240 Electrician Tool Belt Combo
There are many people I have worked with who claim this is one of the best electrician tool belts they have ever owned, and for good reason. The Gatorback B240 has 18 pockets, a tape chain on the right side and nine pockets on the left. It features an air channel design that provides the user with comfort. It also has foam material lining the belt for extra comfort. Stress points and poaches are firmly attached for durability. It is made of heavy-duty 1250 DuraTek nylon for sturdiness. The material is light. It has a plastic lining on the inside of the pouches to prevent sagging. The pockets remain open and accessible because of the plastic lining. Tools cannot pierce the plastic lining.
PROS:
Comfortable to wear
Provides sufficient space for carrying electrical tools
Sturdy and durable
Pockets are easy to access
It is lightweight
Has a 1-year warranty
CONS:
The belt doesn't have suspenders. One has to buy them separately.
Conclusion
In conclusion, different belts have different features and capabilities. Some tool belts also have unique limitations that you should look into. It is important to consider which of the different features is most important to you. Your specific needs will be the ultimate guide in choosing which tool belt to purchase. If you liked our best electrician tool belts guide or have any questions, leave a comment in the section below.