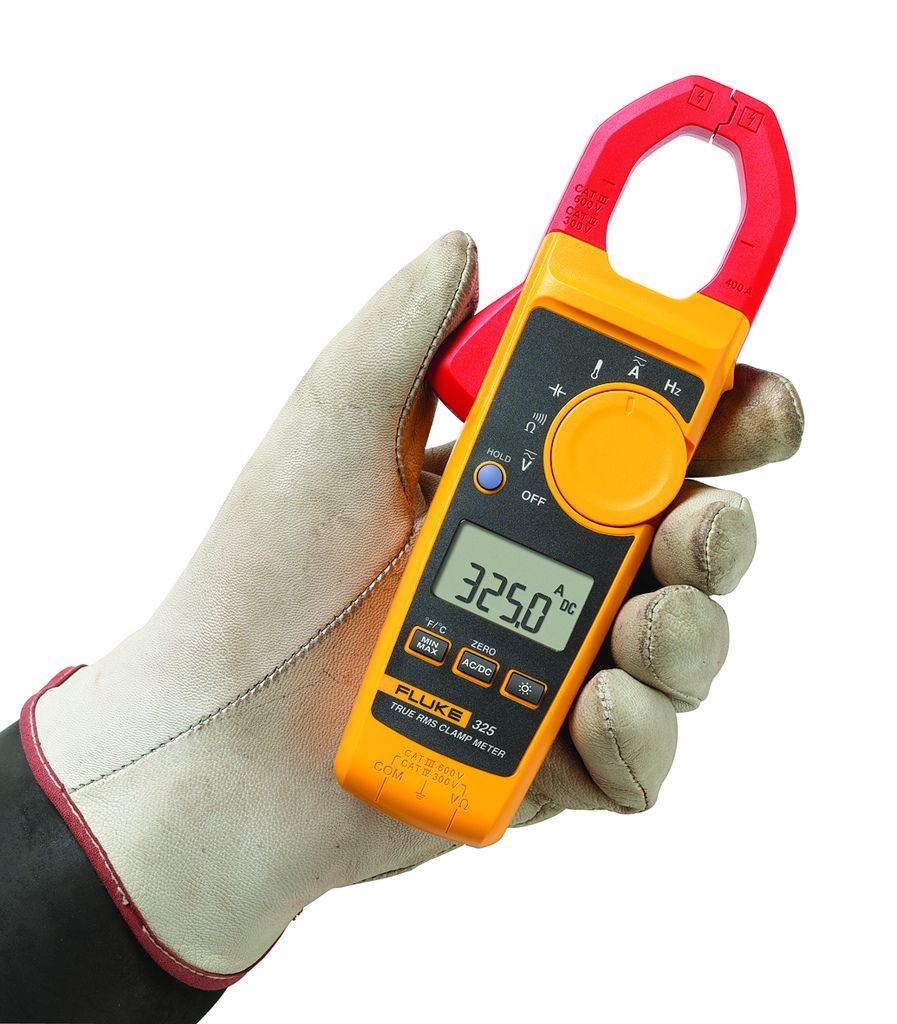 Looking for the best clamp meter for electricians? The clamp meter market floods with hundreds of models and choosing the right one can be quite a minefield for any electrician. Clamps meters come with varying functions and each of these functions are used to deliver proper performance, reliability, accuracy and safety. Here, we have reviewed some of the best clamp meters for electricians to help you choose the one that best fits your needs.
Fluke 323 Clamp Meter
If you are looking for a reliable troubleshooting tool, you can't go wrong with Fluke 323 digital clamp meter. Both commercial and residential electricians prefer this model because it has a practical size and lacks nothing in term of efficiency. The Fluke 323 has the ability to measure amperage, voltage, and resistance (Up to 400 amps of AC, up to 600 Volt of AC voltages and resistance of 4 kΩ). With this amount, you may not have to worry about sign waves fed to the device. Fluke 323 uses True RMS technology, which allows it to display accurate reading regardless of sign waves. This clamp meter also utilizes broad jaws when measuring current. The jaw opening measures conductors up to 30mm in size, which is enough space to measure vitals without interrupting the circuit. The meter is also equipped with a beeper for easy continuity troubleshooting without looking at the meter. For commercial or residential settings the Fluke 323 is the best clamp meter for electricians.
PROS:
Features audible better
Has high accuracy
Certified as a safe tool by IEC
Comes in a slim ergonomic design
You do not have to move the leads to take measurements.
CONS:
Its range only cover from 400 to 4kiloohms and not lower voltage
The lead port are not conveniently located
No DC measurement
back to menu ↑
Klein Tools CL800 Digital Clamp Meter
Unlike Fluke 323, Klein CL800 can measure both AC and DC voltage along with resistance, capacitance, frequency, and test diodes through test leads which generally makes it quite functional for both domestic and commercial electrician. This model has some other little but significant features such as a flashlight, voltage detector, and low impedance mode. It is true RMS, this allowes the user to easily read AC voltage and current at a high degree of accuracy. The Klein CL800 is also equipped with a super convenient feature while troubleshooting thanks to a strong magnet that hold on to metal surfaces. The LCD screen is not only large but features a backlit display  to easily see the readings. If your the type of electrician who always works in the dark and can never seem to have enough hands, this is by far the best clamp meter for electricians.
PROS:
Measures AC and DC voltage and amperage
Natty flashlight
Toughly built
Illuminates display
Several multi-meter ranges
CONS:
Takes a while to get readings
The screen is prone to wash out at a certain angle
back to menu ↑
Fluke T5600 clamp meter
When it comes to current testing, checking voltage and continuity, The Fluke T5600 is the best clamp meter for electricians; it allows you to check everything in one compact tool. All you need to do is select volts, ohms or current and leave the rest to the tester. The open jaw tester lets you check up to 100 amperes without interrupting the circuit. The test leads stow neatly on the tester's back and they accept optional accessories like clips and probes. You will also love the auto power-off modes, which is quite helpful when it comes to battery preservation.
PROS:
Auto-off mode
Has a continuity beeper
Compact design
Can withstand a 10ft drop
Accurate, current measurement
back to menu ↑
Klein Tools CL110KIT
Klein tools bring some of the best products to the market; Klein Tools not only promises accuracy in their product lines but also ensures each device is properly certified. Klein Tools CL110 is one of its best product lines. It detects some of the most common wiring issues in GFCI and standard receptacles including open hot, open ground, open neutral and hot ground reversed. Klein tools CL 110 features a backlit LCD which makes it easy to read the measurement at all times. The overall design is amazingly sturdy and doesn't require effort to operate even for a novice. If your looking for a robust clamp meter then the Klein Tools CL110 is probably the best clamp meter for electricians.
PROS:
Can withstand a fall of 4 meters
Measures AC and DC and voltages
Measures resistance
CONS:
Cannot withstand lengthy drops
back to menu ↑
Fluke 324 True-RMS Clamp Meter
Fluke 324 is arguably the best clamp meter for electricians in the market, and for good reason. It provides an edge over the previous review Fluke 323. It has the similar AC measurement capability as the fluke 323, and it comes with almost the same compact heavy duty design. The difference is that is that this model can measure both capacitance and temperature; it can measure the capacitance of up to 1000 µF which is important for those dealing with HVACs. It also has a built-in backlit feature which allows you to see in low light situations. The Fluke 324 clamp meter also features True RMS technology, so you do not have to worry about inaccurate readings. This clamp meter has a slim compact design making it well suited to measure current up to 400A even in tight cable compartments.
PROS:
Slim Compact design
 Temperate and capacitance readings
Backlit screen
Features the standard safety ratings
CONS:
Lacks enough space for test leads
Does not have DC measurement capabilities
Conclusion
These are so far the best clamp meters for electricians out there and for good reason. You may stumble across other clam meters out there, but the most important things to keep in mind when choosing a clamp meter or multimeter is performance, accuracy, reliability and most importantly safety. Check the voltage and amp measurement value and select the one that fits your needs. Lastly, don't sacrifice quality for a price not for a device as important and complex as clamp meter. If you liked Electrician Lab's best clamp meter for electricians 2021, have any questions, or would like to suggest another product for us to review, leave a comment in the section below.