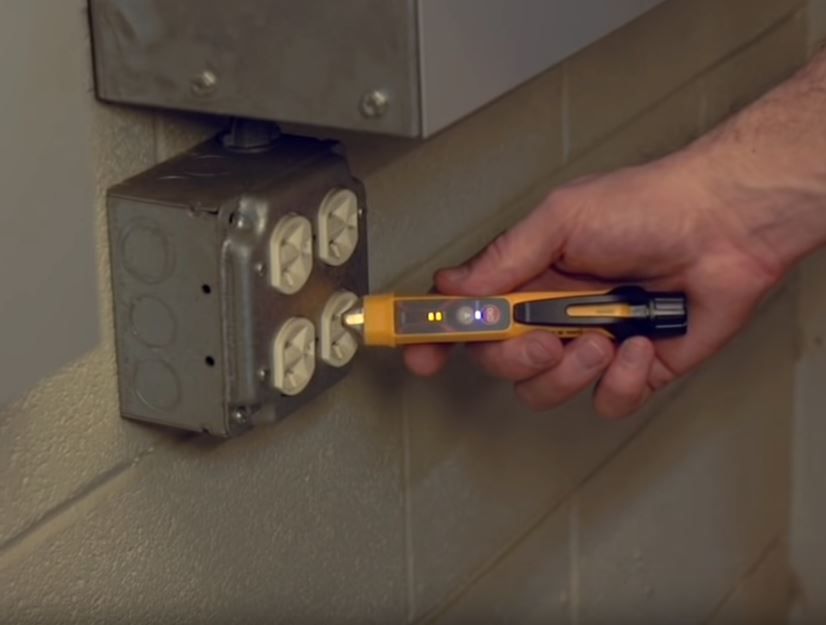 Within the world of electricians, test equipment is extremely important when it comes to safety, you can never claim to be a professional electrician without a voltage tester. How else will you be able to detect the existence of current or voltage? Will you not also predispose yourself to the risks of electric shocks? That is why it pays to get to know above the best non-contact voltage testers on the market today.
Klein Tools NCVT-2 Dual Range Tester
This tester is optimized to handle many applications and if you need to test for both standard and low voltage, this is probably the best non-contact voltage tester. You have it for your taking if you deal with many surfaces or circumstances of use. It is well able to detect both the standard and the low voltages respectively. For this reason, it is quite convenient to make do with.
Excellent Illumination
Its flagship feature is the excellent illumination. This one comes in the form of a bright-green LED light that is highly intense. With this illumination, you will easily see what you are doing especially when in the dark. You will not have to strain or lose your steps at all.
Dual Range Testing
With this tester, you will be able to test two ranges of voltage options. These are the 12-1000V AC and the 48-1000V AC respectively. You will not have to clutter your workspace with many tools. Instead, you will enjoy unconstrained conveniences as you go about your business.
Auto Power-off Feature
An auto power-off feature also comes along with this tester. The aim of this is to help you conserve your batteries. It does so by automatically switching the tester off if it stays idle for too long. This way, it also prevents you from sustaining unnecessary accidents.
PROS:
Yields expanded operations and protection
Portable enough for easy transportation
Features the durable polycarbonate plastic resin construction
Backed by a convenient pocket clip
Possesses 9.8-foot/3m drop protection
CONS:
Cannot detect extremely low voltages
Lacks a beeping sound for better alerts
Some people complain of inconsistent readings
back to menu ↑
Fluke 1AC-A1-II VoltAlert Non-Contact Voltage Tester
Are you a career electrician who wants to make his work convenient? This is the tester to bring in for the job. It is universal in scope. You will find it applicable to many tasks and purposes. By placing your bet on it, you will not have to spend too much on other accessories and gears.
Voltbeat Technology
Standing tall among its awesome features is the voltbeat technology. Through this technology, the tester ascertains the integrity of the circuit and that of its battery. You will know whether the tester is in proper working shape or not at any given time. In this manner, you will avoid any ambiguities in the course of use.
Double-flash Visual Indication
From time to time, the tester emits some double flash via its visual indication component. The purpose of this flash is to alert you of any malfunctions or damages to the system. Yet again, it keeps you abreast with any impending issues which might require your intervention.
Robust Performance
All factors considered this tester yields some robust performances indeed. Its tip emits a bright red glow, while it keeps beeping every now and then. This way, you get to know whether there is any voltage in the line conveniently. You will not miss out on any measurements and details hence.
PROS:
Simpler to engage
Displays the readings in many formats
Handles a wide range of voltage readings
Protects your hands appropriately
Less ambiguous than most testers
CONS:
Does not endure the test of time
Overly sensitive
Possesses shorter prongs
back to menu ↑
Klein Tools NCVT-1 Non-Contact Voltage Tester
Different testers are designed for different uses and for the price this is by far the best non-contact voltage tester for the everyday residential electrician. This one is for detecting standard voltage only. It can nonetheless handle many materials. Examples of these are wire outlets, circuit breakers, cords, cables, lighting fixtures, and so on. It is a nice one to set your hands on if you deal purely with standard voltages.
Excellent Performance
This tester does a great job in detecting the existence of voltage and current. This one is mostly made possible by the bright red LED illumination. The light is accompanied by some warning tones which alert the existence of voltage. Chances of missing any readings or voltage are heavily suppressed.
ON/OFF Power Button
An on/off button also forms a vital part of this tester. The button is digitally controlled. It works discreetly to deliver to you the required levels of performance. Its existence also goes a long way in reducing the emergence of accidents and injuries. Making sure your environment is not dangerous it's extremely important for the proper safety equipment!
Professional-grade Makeup
In all, this tester features some professional-grade makeup. This is evidenced by its tough construction, reliable parts, and elegant design. Together, they jointly make for awesome service delivery. While at it, the makeup also reduces the incidences of breakdown. Your maintenance costs are heavily suppressed as a result.
PROS:
Detects current and voltage in many materials
Illuminates your workspace too!
Enjoys extended battery life courtesy of the power-off feature
Emits some warning sounds upon detecting current
Features the durable polycarbonate plastic resin construction
CONS:
Poor display unit
Detects standard voltage only
A low value for money
back to menu ↑
Klein Tools NCVT-4IR non-contact Voltage Tester
Large scale structures require no ordinary voltage testers. Due to the massive scope of such structures, there is a need for a piece of specialized testing equipment. This is the one to look up to for such applications. It also has the added benefit of being usable in many environments so if you are an electrician constantly working in dark environments, this is definitely one of the best non-content voltage testers on the market!
Multiple Alerts
Upon detecting voltage, this equipment displays the output in multiple alerts. It gives off the audible and the visual prompts simultaneously. This arrangement ensures that you do not miss out on your readings at all. Any subsequent course of action you take will definitely be accurate also.
Bright Flashlight Illumination
Intending to work in the dark? Worry not! This tester yet again will come to your rescue. It emits some bright flashlight illumination to make this possible. What's more? This illumination operates independently of the voltage detection functionality. (You may use it as some kind of a spotlight).
Visual LED Bar Graph
As if the above is not enough, the tester contains a visual bar graph that is displayed in the form of LED lighting. The graph detects and showcases the existence of voltage. Higher voltage levels brighten the graph and vice versa. It leads to quicker and prompt interpretations.
PROS:
Resists both water and dust
Very light in weight to carry easily
Guarantees quick access to your results
Delivers precise measurements
Emits data with both visual and audible indicators
CONS:
Cannot accept any attachments
Quite pricey to come by
Poor customer service
back to menu ↑
Klein Tools NCVT-3 Non-Contact Voltage Tester with Flashlight
Looking to detect voltage in damp environments? You need a tester that is waterproof. That is because the ordinary ones easily sustain water damage. Their readings are also not as accurate. This is the one we ask that you try your luck on. As you are about to see, it is appropriately designed for the job.
Screw-thread Battery Cap
Its battery which supplies it with power contains a cap. This cap is screwed by means of some thread. It is accompanied by an O-ring. The latter guards against water ingress and dust. In so doing, it guarantees the performance of the system reliably for long.
Compact Size
All the constituent parts and components of this tester are enclosed in some compact size. This makes the tool lighter and more convenient to handle. It also has a pocket clip which plays the role of providing you quick and convenient storage. You will also find it easier to deploy.
IP67 Rating
As noted above, this tester is resistant to water and dust. This resistance is brought about by the IP67 rating. Expect it hence to stay reliable even in circumstances which would damage other testers. Also, the tester remains resilient regardless of the mud that is thrown at it.
PROS:
The low battery consumption rate
Delivers outcomes in many formats
Displays the ends in the form of a graph
Illuminates your work area as well
Operates at a comfortable frequency indeed
CONS:
No extra features
Hit-or-miss detection performance
Less bright flashlight
back to menu ↑
Milwaukee 2202-20 Voltage Detector with LED Light
Intending to work in an area of low illumination? This is the tester to go for. It contains a flashlight which is pretty bright. This flashlight illuminates your path and makes you behold what you are doing with ease. That way, you get to operate in any area and at any time of the day.
Durable Tip
Its tip is pretty durable. In light of this, it does check all power outlets easily. Being durable, it handles many cycles of operations without faltering. You will also spend less to repair and maintain it hence. This gives you room for further convenience you take your measurements.
Built-in Bright LED Work Light
As noted above, this tester works well in areas of light illumination. It does have a bright and built-in LED lighting mechanism. This one brightens your path to let you clearly see what you are tackling at any given time. Chances of making mistakes are hence kept at bay.
Pocket Clip
For the sake of your easy transportation, this tester comes along with a pocket clip. You attach it on your pocket using the clip. This makes for easy transportation and retrieval if need be. Gone are the possibilities of damaging your tester. Also, the benefit of awesome experience is yours to leverage.
PROS:
Great for all kinds of buildings
Detects a wide range of voltage
Embodies industry-leading technology
Its buttons are easy to push
Green power on indicator adds some value
CONS:
Slow operations
Difficult to replace the batteries
Cannot detect some surfaces
back to menu ↑
Tacklife VT01 Advanced Non-Contact Voltage Tester
Different environments require different degrees of sensitivity. It is only fair that the tester you choose for the job to be adjustable. Only then will you be able to impact the surfaces well. Of all the ones we have under review, it is this that is adjustable.
Built-in Flashlight
It contains a flashlight that is built into the system. The flashlight allows you to operate in environments that are dark and poorly illuminated. That is because it brightens your path and wards off any ambiguities. You get to behold what you are doing well.
LED Indicator
An LED indicator comes in next among the list of its most awesome features. The role of this indicator is to clearly display the measurements. It has the ability to display low, medium and the high voltage outputs. You will not have to switch back and forth many devices or clutter your workspace.
VT01 Portable Hook
Generally speaking, this tester is in the form of compact size. It also comes along with a portable hook for your easy transportation. You will hence find it easier to carry around and deploy to the remote location of intended use. This way, you will easily make use of it for daily applications.
PROS:
Recognizes live and null wires
Emits screen, light, and sounds at the same time
Its bright LCD screen is energy-saving
Detects many voltage levels and options
Buzzer alarm is loud and sensitive
CONS:
Calls for some expertise to handle
Disparages those with less skill
Costs a fortune to repair if broken
back to menu ↑
Greenlee GT-16 Adjustable Non-Contact Voltage Detector
If your whole life centers on matters of electricity, you want a universal tester. This one is optimized for comprehensive applications. It is hence appropriately suited for whole life use. Take hold of it and devote it to your daily applications. This aside, the device also handles many other applications well.
Adjustable Detector
You may adjust the various parameters of this tester. This lets you handle many kinds of applications. For instance, you may use it in a number of low voltage circuits, thermostats, home lighting, and power wiring. This arrangement means you enjoy a higher value for your money.
Comprehensive Applications
As noted above, this tester handles comprehensive applications. It goes beyond merely detecting the existence of current and voltage. You may use it to find breaks in your wires and spot out neutral and hot conductors. This yet again goes a long way in enhancing your own comfort.
Low-battery Indicator
Lastly comes the low-battery indicator. If the battery power falls below acceptable levels, the indicator alerts you. You will be able to know whether the tool is fit for use or not. Further to that, the indicator also draws to your attention any need for further repairs or buffer.
PROS:
Adjustable enough for many purposes
Safe enough to detect low voltage
Negates the need to touch the bare conductor
Impacts many materials and substances
Identifies hot and neutral conductors also
CONS:
Only for professional applications
Costs too much to acquire
Transportation is somewhat difficult
CONCLUSION
It makes no sense to read through these explanations and take no action. You must surely acquire one tester from the list above. Read through the list a second time and find that which mirrors your own needs and expertise. If you liked our top 8 best non-contact voltage testers, have and questions or just want to say hi, please leave a comment in the section below!