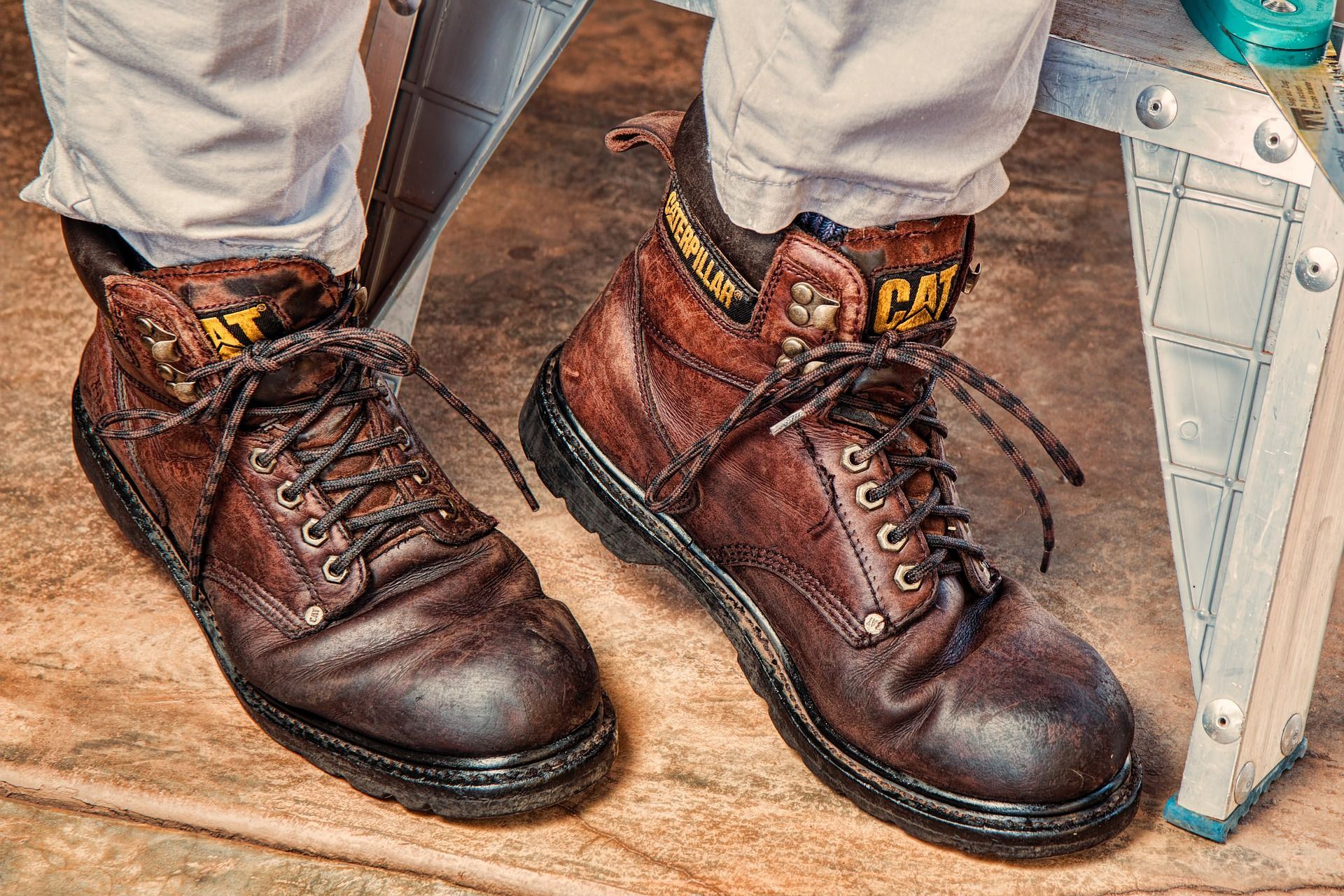 As electricians, we constantly work on jobs with hazards around each corner so choosing the best boots for electricians is a must to ensure we are ready for any situation we come across. We're up and down ladders in tight spaces. We work around heavy machinery. AND (let's not forget) often risky electrical work.
On a work site, safety should ALWAYS be our number one concern and the first step to ground and protect ourselves from injury are our boots. Durability, comfort, safety and security are all essential elements to look for in the perfect work boot for electricians. Not only do we want to make sure the boots optimize our safety, we also want to choose the boot that will outlast the competitor without compromising our security.
What makes a good work boot?
Whether or not the boot we choose is DURABLE is often at the forefront of our concerns when we purchase a pair. We want our investment to be profitable. We want our boots to last. They need to withstand the daily wear and tear our industry inflicts on them. They also need to protect our feet from the same damage. So while we often worry about price, our number one concern should always be SAFETY. The one component when we choose a boot that is most overlooked is COMFORT. While we may walk in these boots for a short while, we have to walk with our feet for the rest of our lives. Long term orthopedic health requires a combination of all these factors. And strong, healthy, protected feet will support a long term run in our electrical careers. Let's dive right in a take a look at the top 6 best boots for electricians in 2022.
Carhartt Men's CMF6366 6 Inch Composite Toe Boot
PROS:
Composite Toe
Water Resistant
Slip and Chemical Resistant
Durable
back to menu ↑
Thorogood Men's Composite Safety Toe Gen Flex 804-4445 6-Inch Work Boot
PROS:
Composite Toe
Composite Shank
Light Weight
Durable
CONS:
Non Water Resistant
Non Insulated
back to menu ↑
Timberland PRO 6″ TiTAN Composite Safety-Toe Work Boot
PROS:
Water Resistant
Composite Toe
30 Day Guarentee
Slip & Oil Resistant
Durable
CONS:
Plastic Eyelets
Non Insulated
back to menu ↑
Caterpillar Men's Diagnostic Waterproof Steel-Toe Work Boot
PROS:
Waterproof
200g Thinsulate Insulation
Durable
Slip Resistant
back to menu ↑
PROS:
Extra Durable
Slip and Heat Resistant
Extra Comfort
Metal hooks and Eyelets
Odour Control
CONS:
Non Water Resistant
Steel Toe
Non Insulated
---
back to menu ↑
Caterpillar Men's Second Shift Steel Toe Work Boot
PROS:
Steel Shank for Added Support
Added Breathability and Comfort
Durable 100% Leather
Slip and Oil Resistant
Comes in 5 Colors
CONS:
Cheap Laces
Not Insulated
Steel Toe
back to menu ↑
Choosing the Right Safety Toe

When you're an electrician, your feet are often subject to danger. Your boots need to sustain a lot of impact, wear and tear and provide comfort during your day. Usually when you talk to other electricians about work boots, the first recommendation you get is steel toed. But, there are alternatives that have other pros that may be more important when you need to choose the best boots for electricians.
Here is a list of 3 boot types and what each of them have to offer.
Composite Toes
Even though composite boots are similar to steel toe, these boots are made of plastic, carbon fiber or Kevlar. These composite toe caps still comply with ANSI/ASTM safety standards. Although nearly identical besides being bulkier, composite protective caps are lighter for your feet. These types of caps are nonmetallic and nonmagnetic so they do not transfer heat or cold and. These make them an ideal option when choosing the best boots for electricians.
Alloy Toes
The pros to alloy protective toe caps is that while they offer similar protection to steel toes, they are 50% lighter. Like the composite toes, this type of toe is thicker than steel toes but is also lighter. Another pro about this boot is that the protective cap is more flexible and bends under pressure which can be a major benefit when you need to choose the best work boot as we constantly find ourselves in tight spots.
Steel Toes
This is the first type that comes to mind when most people think of safety boots. And for good reason. Steel toes are often considered the safest, the most compact and (like the alloys) they bend well under pressure. However, they are the heaviest. And this needs to be taken into consideration for comfort and workability.
Secondary Concerns: Waterproof, Insulation,Breathability and Comfort
It's a given that we are concerned about safety. But secondary concerns when choosing the best boots for electricians usually revolve around comfort. No one wants to work in wet, cold boots that make your feet stink or hurt. So waterproofing, insulation, breathability and comfort are all major concerns. When you're comfortable and safe on the job site, it makes your work that much easier.
---
As electricians, we all have different ideas of what is most important in choosing a good, high-quality pair of work boots. What's important is that we picked a well balanced boot that doesn't compromise the safety of bodies, the comfort of our day and the balance in our bank account. I'm confident that the information I've provided will assist us all in finding only the best boots for electricians in the market today. there you have it the top 6 best boots for electricians brought to you by ElectricianLab. If you own a pair that was mentioned or have any questions, please leave a comment below.