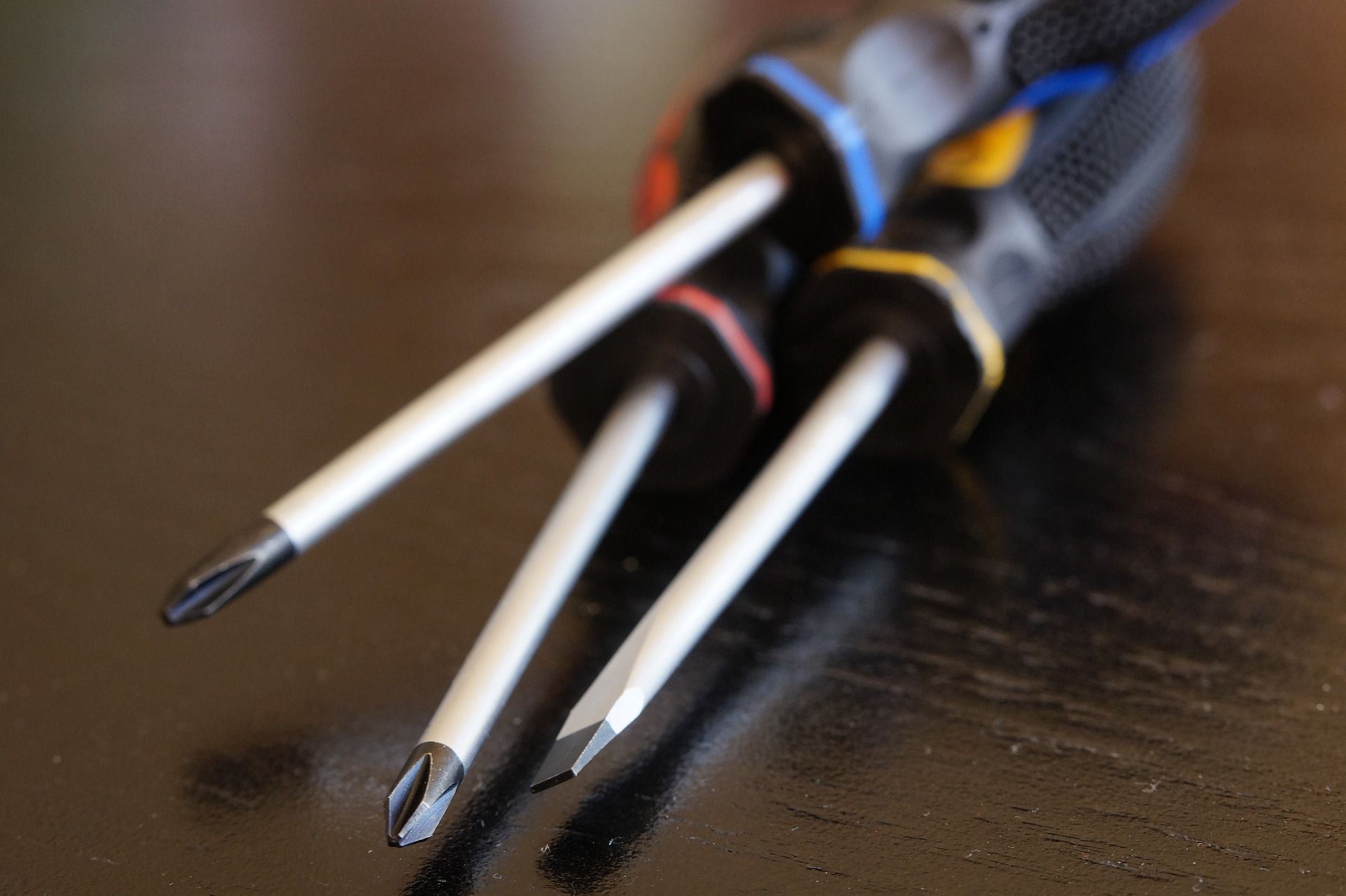 A screwdriver is a common tool in almost every home or building. This tool was invented for the purposes for removing and driving screws. Generally, this tool is very important to many tradesmen in many different fields of work. A screwdriver can be used at home for repairs, hobbies, and DIY projects. Over the years, this specific tool has evolved and some are build specifically for electricians in mind.
Electricians who deal with electricity on a daily basis have a much higher risk of getting an electric shock. Over the years major companies focused on providing a product to ensure the safety of tradesmen working with electricity to reduce the risk of electrocution. In order to reduce electrification, the insulated screwdriver was invented and then mastered. Nevertheless, it is very important to always wear proper safety equipment such as electrical rated safety boots and safety gloves while using insulated screwdrivers.  As an electrician by trade, I never go to a job without insulated screwdrivers and Electrician Lab recommends every electrician should own a set.
Dewalt DWHT66417 Vinyl Grip Insulated Screwdriver Set
The Dewalt DWHT66417 is a insulated screwdriver set of 10 that comes with 3 slot bits, 3 phillips bits, and 2 square bits, the perfect combination for a residential or commercial electrician.  For residential electricians these are the best insulated screwdrivers. Electricians need proper tools to get the job done efficiently while keeping safety in mind. The Dewalt DWHT66416 is built with an  insulation rated up to 1000 volts and certified by VDE. The tool comes with a vinyl grip handle and precision handle with a quick release feature for a secure and efficient bit change. Built with quality durable material and backed by a factory and full warranty,  its a no brainier why this tool it rated so highly.
PROS:
1000 volt rated insulation
Packed with precision handle and grip handle
The insulation is directed to the Bit for strong bonding
Included tool pouch for organization
Factory and full warranty included
CONS:
Tips do not have a magnet
back to menu ↑
Wera Kraftform Plus 160i/168i/6 Insulated Professional Screwdriver Set
The Wera Kraftform Plus is a insulated screwdriver set of 6 laser tipped slotted and Philip drive screwdrivers. with included screwdriver rack. Each driver is tested with 10,000 volts inside a water bath ensuring user safety while working up to 1000 volts. The laser tipped drivers reduce the chances of slippage while operating to ensure safety while working on electrical panels. The multi-component handle fits well in the hand for easy and high-speed working without sacrificing comfort. Built with comfort and safety in mind, the Wera Kraftform Plus is backed with a limited lifetime warranty. For panel work electricians need a very safe and reliable set of screwdrivers. Due to the laser tip slip proof design, comfortable handles and safety rating, these are is the best insulated screwdrivers. Electricians need to be as cautious and safe while working on any job and you can guarantee safety and satisfaction with this set.
PROS:
Tested and rated for up to 1000 volts
Handles are extremely comfortable
Limited lifetime warranty
Laser tips ensure perfect fitting
back to menu ↑
Wiha 32095 Slotted and Phillips Insulated Screwdriver Set
The Wiha 32095 insulated screwdriver set is rated for use up to 1000 volts and tested with 10,000 volts. This massive insulated screwdriver set comes with 19 pieces but is also offered in a set of 13 or 6. Set set includes essentially every screwdriver an electrician needs for any situation. For an electrician that needs a large number of different drivers types on a daily bases, then this set is by far the best insulated screwdrivers. Electricians need to be ensured safety is guaranteed, so each screwdriver is insulated individually for maximum safety. The screwdriver is manufactured with high durability materials. Therefore, you are guaranteed it will serve you for a very long time without breaking down. The handle is build with a soft finish cushion for comfort and designed with extra grip to reduce slip while operating.
PROS:
Each screwdriver in the set is individually tested for safety
WIHA products are ISO standard
The tool is hardened for long-lasting performance
Insulation is direct to the blade..
Ergonomic molded and insulated cushion grips
CONS:
Sometimes the slotted tips do not fit the standard screw slot
back to menu ↑
Titan Tools 17237 Insulated Electrical Screwdriver Set
Titan Tools 17237 screwdriver set is built with magnetic tips. Not only does this helps to keep the screw intact as you drive or remove, but its also a great feature when working in awkward areas, especially if you only have one hand to set the screw in place. The blades are insulated for working on electricity up to 1000 volts and each individual screwdriver is tested and proved safe before making it to your hands. The handles are designed with a cushion grip to fit the user's hand to improve the performance while operating. For an electrician who always seems to be in awkward situations and cant seem to keep the screw on the end of their driver, This set is the best insulated screwdrivers. Electricians many times require a magnetic driver. The Titan tools 17237 ensure a strong magnetic insulated screwdriver built for safety and performance.
PROS:
Strong magnetic tips
Available in different sizes
Designed with a comfortable handle with extra grip
Available in 7 pieces
CONS:
The tip can wear down over time
back to menu ↑
ML TOOLS 1000-Volt Insulated Magnetic Tip 6-Piece Screwdriver Set
ML Tools Insulated screwdrivers are GS certified, VDE certified and good to operate up to 1000 volts. The blades are extremely durable not only are they hardened, but they are also made of chrome vanadium. These screwdrivers are not only comfortable but also lightweight. The handles have an anti-slip design ensuring maximum performance while operating. ML Tools offers a 100 % customer satisfaction, so you can guarantee confidence in the tool before purchasing it.
PROS:
Magnetic tip for easy operation
GC and VDE Certified
Anti-slip handle with good handling grip
Hardened blades for durability
CONS:
The magnetic tip can wear out over time
back to menu ↑
Wiha 28390 Insulated SlimLine Interchangeable Set, 15-Piece
The Wiha 28390 SlimLine Insulated screwdrivers are ASTM, VDE,DIN, EN/IC, NFPA and CSA Certified and are rated for up to 1000 Volts AC.  The blades are 33% more narrow without risking strength or safety. The handles are comfortable yet built smaller for tight areas without the loss of functionality or efficiency while operating. It's equipped with 15 interchangeable bits to cover all types of screws styles while on the job and a slim line cusion grip blade holder for comfort. The Wiha 28390 also comes with a roll up pouch for easy storage and is compact making it easier to store due to the interchangeable bit design.
PROS:
Slimline cushion handle for tight spaces
ASTM, VDE,DIN, EN/IC, NFPA and CSA Certified
Durable and quality built
33% more narrow blades
Compact design for easy storage
CONS:
Shank length is a tad short
back to menu ↑
Best Insulated Screwdrivers: Electricians Conclusion
Insulated screwdrivers are not only essential tool for electricians but they need to be insulated for the safety of the user. As mentioned before it is very important to own a set of insulated screwdrivers as an electrician and safety should always be an electricians number one concern.  Nevertheless, finding the best insulated screwdrivers can be a challenge since there are many options available in the market, be careful before buying to ensure they are properly certified and tested . If you liked our best insulated screwdrivers: electricians top 5, have any questions or would like to suggest another product to review, please leave a comment in the section below!