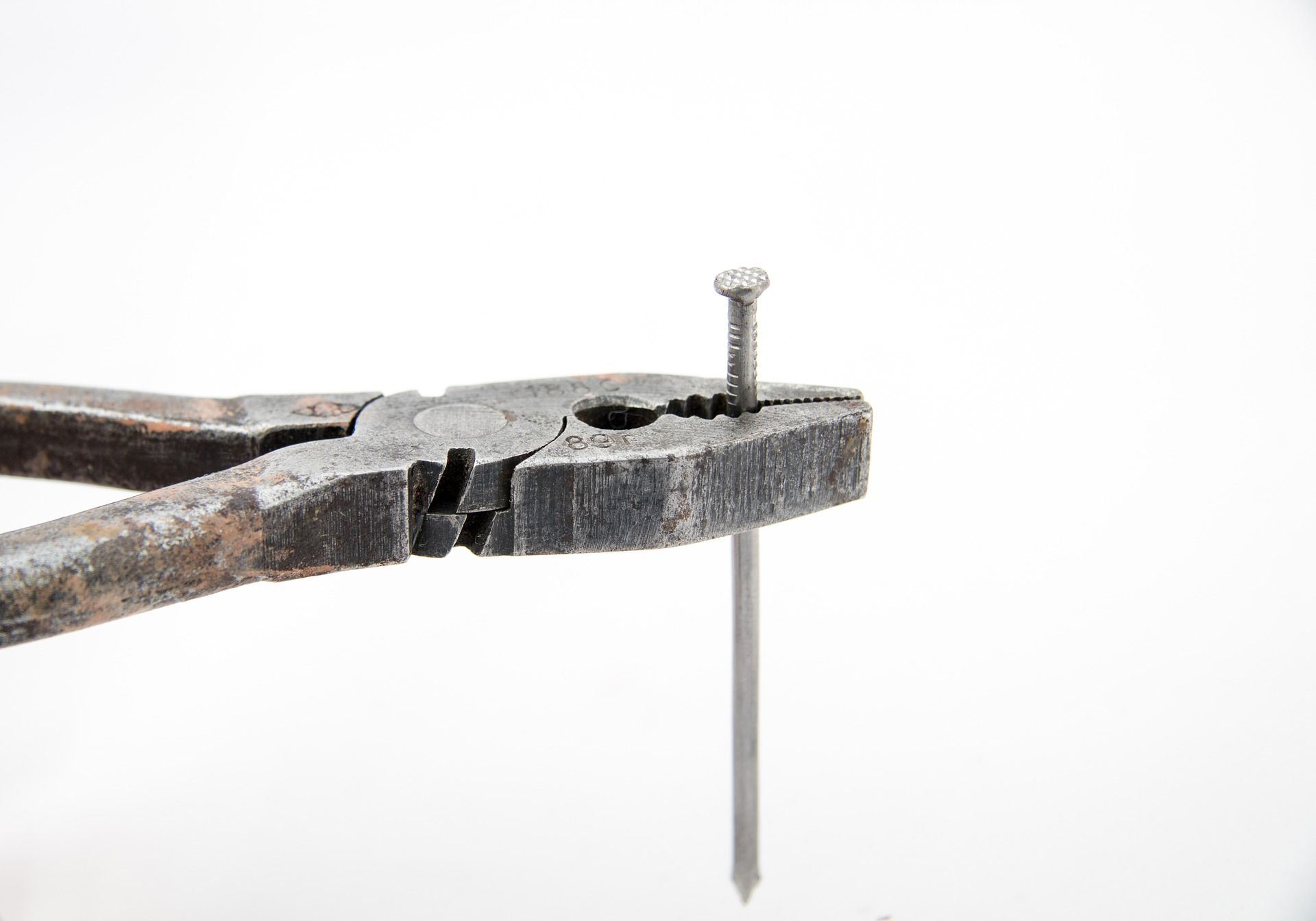 Whether you do electrical work as a fulltime job or just merely fixing stuff around the house, the value of having a good set of lineman's pliers cannot be underestimated. Having a set of pliers is one thing but having the right set of pliers to get the job done is what matters. This is primarily because there are uncountable sets of pliers available to choose from and different sets may be more suited for various tasks than others. Determining the right set of lineman's pliers requires one to pay keen attention to detail and also get to understand what you want to be done precisely. Whether your job involves cutting wires of merely holding stuff for straining, a good set of lineman's pliers should help you do it with minimal effort and less hassle. To get a deeper insight discussed below is a list the top 6 best lineman pliers for electricians.
Klein Tools D213-9NE High Leverage Pliers
This set of pliers proves its worth by providing 46 percent gripping power than other tools of its class. It achieves the high grip power courtesy of its Rivet which is closer to the cutting edge. Its hot-riveted joint guarantees a smooth action when cutting through the material which makes it of high-leverage, unlike other designs. If your looking for a powerful cutting tool that's build for power, the Klein Tools D213-9NE are definitely one of the best lineman pliers for electricians.
PROS:
Cutting knives are hardened for long service life.
Its streamlined shape ensures gripping without handle wobble.
The handle is uniquely tampered to absorb the snapping effect when cutting.
It's made from industrial quality level material and quickly cuts through materials below 4 millimeters of both aluminum and copper.
It weighs pretty much light on the hand but still maintains a tight and smooth feel in the hinges.
CONS:
The pliers require regular oiling on the hinges.
Very stiff in the beginning but loosen up as usage continues.
back to menu ↑
Knipex 09 02 240 SBA.
This set of pliers is 9.5-inch Ultra-High leverage pliers which boast of a superb comfort grip cutting style. Unlike many other pliers' types, this type has its rivet significantly reduced in size for a high leverage design that provides a 25 percent ease in cutting power. Additionally, the rivets are closer to the jaws and create an excellent gripping zone which enables both pulling and gripping. The Knipex is well know for its build quality and design, if your looking for a pliers with an ultra strong grip these are one of the best lineman pliers for electricians.
PROS:
Induction hardened edges for long life service.
Provides precision and ease when cutting through irregularly shaped wires.
Improved design for a better look and more comfortable handling.
Stiff gripping that gives no room for side play.
Added comfort grip on the rubber for better hand fitting and more comfort when using.
Leaves a softer, almost-muffled finish after cutting.
CONS:
Quite expensive as compared to other tools of its class.
Blades may get chips if continuously engage in cutting high gauge material like bolts.
back to menu ↑
Channellock 369 9-1/2 Inch.
This is high leverage linesman pliers is quite simple in looks but does exemplify great work. Equipped with the XLT Xtreme Leverage technology, the set requires one to use considerably little force when cutting through materials. It further adopts the USA made Laser heat-treated edges that are made to give many years of service. The Channellock 369 are well priced with the power to cut through material with ease making these one of the best lineman pliers for electricians.
PROS:
Easily cuts through ASCR.
Adopts the anvil style cutting technique that a perfect mating of the edges while cutting.
A crosshatch jaw pattern for excellent and tight grip.
Nice hinges that are loose for easy moving.
Ideal weight when held on the hand.
CONS:
Lacks precision in cutting like others of its class.
Do not guarantee high leverage.
The long handle which denies some usability comfort.
back to menu ↑
Klein J2000-9NECRTP 9-Inch.
This 9-inch Side Cutter Linesman pliers are enabled with tape pulling and wire crimping feature which allows it to cut through ACSR, nails quickly, long gauge screws and other hard wires. The cutting edge is also placed closer to the rivet to provide more gripping power giving it higher leverage than different designs. These are the best lineman pliers for electricians if you constantly use a fish tape for long distance wire pulls.
PROS:
In-built crimper for safety when working on non-insulated connectors and terminals.
Cutting joints are hot-riveted to ensure smooth cutting action.
No handle wobbling.
The in-built crimper makes it a dual purpose tool.
CONS:
Cutting jaw patterns on the blade do not close together perfectly.
The pliers do not guarantee a smooth finished cut.
Not ideal for users with smaller hand size.
back to menu ↑
IRWIN VISE-GRIP 9-1/2 Inch 2078209.
These American made pliers are manufactured out of nickel chromium steel that is very hard making it a very durable tool and ideal for construction purposes. The hardened chromium steel provides extra grip when cutting and ensures comfort when using the device. Amazingly, this pliers exceeds the ANSI requirements. These are definitely the best lineman pliers for electricians if your looking for a pair on a budget.
PROS:
Durable machined-cut jaws for pro-level gripping strength.
The extremely durable steel makes the cutting edges stay sharp over a long usage time.
Made of seriously heavy duty material that guarantees durability over a very long time.
CONS:
Reasonably significant on the hand making simple tasks such as twisting wires a little hectic.
Considerably burdensome than other similar tools due to the heavy duty material used to make it.
back to menu ↑
VAMPLIERS 

8″ Pro VT-001-8 Lineman Pliers
The Vampliers 8′ Pro VT-001-8 Limeman Pliers claim to be worlds best pliers and boy have they lived up to their name. These pliers are manufactured in Japan with an extremely durable Kobe hardened steel. What makes these pliers stand out above the rest is the concave jaw grips with horizontal and vertical teeth. This unique feature allows the user to easily remove stripped, rusted, or stubborn screws and bolts. The ergonomic handle is comfortable with a T-shaped elastomer grip that enables high leverage gripping, twisting and cutting. It's RoHS compliant, backed with a 1 year warranty and comes with a free tool pouch. If you looking for a pair of pliers to cut nails or remove stubborn screws, I highly recommend giving these bad boys a go!
PROS:
20% weight reduction
Manufactured out of hardended kobe steel
Comfortable ergonomic T-shaped elastomer handle
Concave jaw with teeth for easy removal of stripped screws
Easily cuts through nails or screws
1 Year warranty
Extremely durable
CONS:
A little bit shorter then its competitors
Conclusion
Well there you have it, the top 6 best lineman pliers for electricians. It's essential for everyone who wishes to buy a pair linesman pliers to do a clear insight of the tool before purchasing. Different makes and models offer notably different features which may be ideal for different users. For instance, for electricians whose main job entails simple wiring tasks may prefer lighter and less bulky duty pliers than one whose responsibilities include twisting and cutting high gauge material. Comfort and durability are also key features one should consider when purchasing a set of pliers to make sure one gets a good value for his/her money. If you have any questions on liked our review list, please leave a comment in the section below.